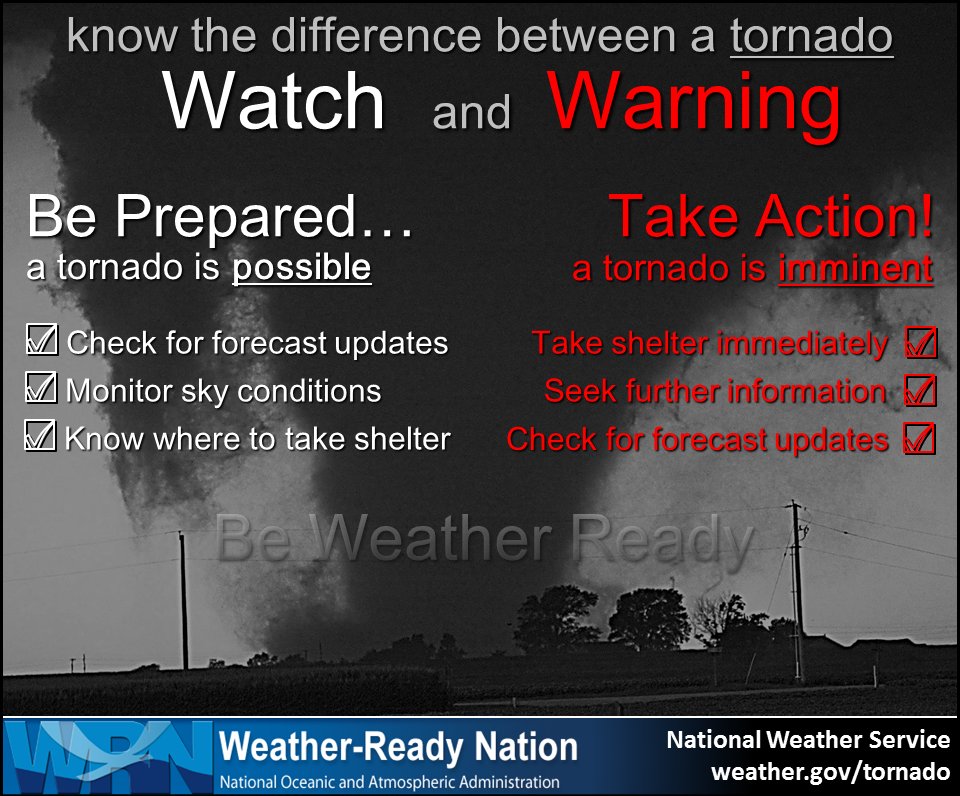 A Tornado Watch means Be Ready — conditions are favorable for a tornado. Be sure you can very quickly get to a safe place if a tornado warning is issued. Know where you are on a map so if a warning is issued, you know whether it applies to you.
A Tornado Warning means Take Cover — a tornado is imminent or occurring.
Tornado Warnings are issued by a team of meteorologists in a local National Weather Service office. Ours is in Nashville. Tornado Warnings have a start time and an end time, although they can and often are continued or reissued.
You know you're in a Tornado Warning if you are inside the warning polygon. Remember from geometry class — a polygon is just a fancy word for a multi-sided shape. They look like this (note the radar is turned off; polygons are almost always shown with the radar on):
In Davidson County, the sirens go off in the entire county if any part of a Tornado Warning polygon is in any part of the County. So, you may or may not actually be in the path of the warned storm if you hear a siren. You should know where you are on the map and take cover if inside the polygon.
Take cover in a site-built home or structure, in a small room on the lowest floor, putting as many walls between you and the outside as possible. You will survive the large majority of tornadoes by doing this.
Do not try to drive away from a tornado.
If you're in a mobile home, get out. Identify a safe building well before severe weather strikes, and know where you can go morning, evening, holidays, at any time.
Everyone should have a helmet. Adults too. Bike helmets, batting helmets, hockey helmets, whatever. Wear one. Serious injury to the head is common in a bad tornado. This is especially true for kids. The simple act of putting a helmet on them may save their life.
Charge your phone. You will need to access information if your power goes out, and/or to contact friends and family in the event a tornado strikes.
Everyone should wear hard-soled shoes. Even if you have minor damage, there will be all sorts of hazards to your feet strewn about. You don't want to be left barefoot.
Essential food and medication should be in a backpack or otherwise secured on your person.
Have your drivers license on you. That way, if your neighborhood is hit, you have proof of your address and can get back to your home.
Have a whistle or air horn. That way, search and rescue can find you.
Do not ignore a warning. The odds are the tornado will not strike you, and you will spend 30 or 45 minutes holed up with family and friends. That's a tiny inconvenience that's worth safeguarding and protecting you and your family from injury.
As always, follow multiple reliable sources for severe weather information. You can get us on Twitter @NashSevereWx (https://twitter.com/NashSevereWx). You should also watch your favorite local TV station (2, 4, 5, or 17). National providers like The Weather Channel and most forecast apps will not give you all the information you'll need during a warning.
This website supplements @NashSevereWx on Twitter,

which you can find here.